This
article
was originally published on
this site
Looking to sell or buy a domain name? It's crucial that you have the proper information and a carefully considered valuation before starting any negotiations. A ballpark figure in mind can ensure that you don't leave money on the table. It also prevents you from driving potential customers away by quoting too high. Luckily, there are a few domain appraisal services that can help you arrive at a rough estimate.
Domain appraisal services are not simple math, and estimates can vary vastly. In fact, the correct price for a website or domain name is what you can actually get someone to pay for it. What these appraisal services do is merely help you find a starting point – an amount that you can use as an anchor before doing further research.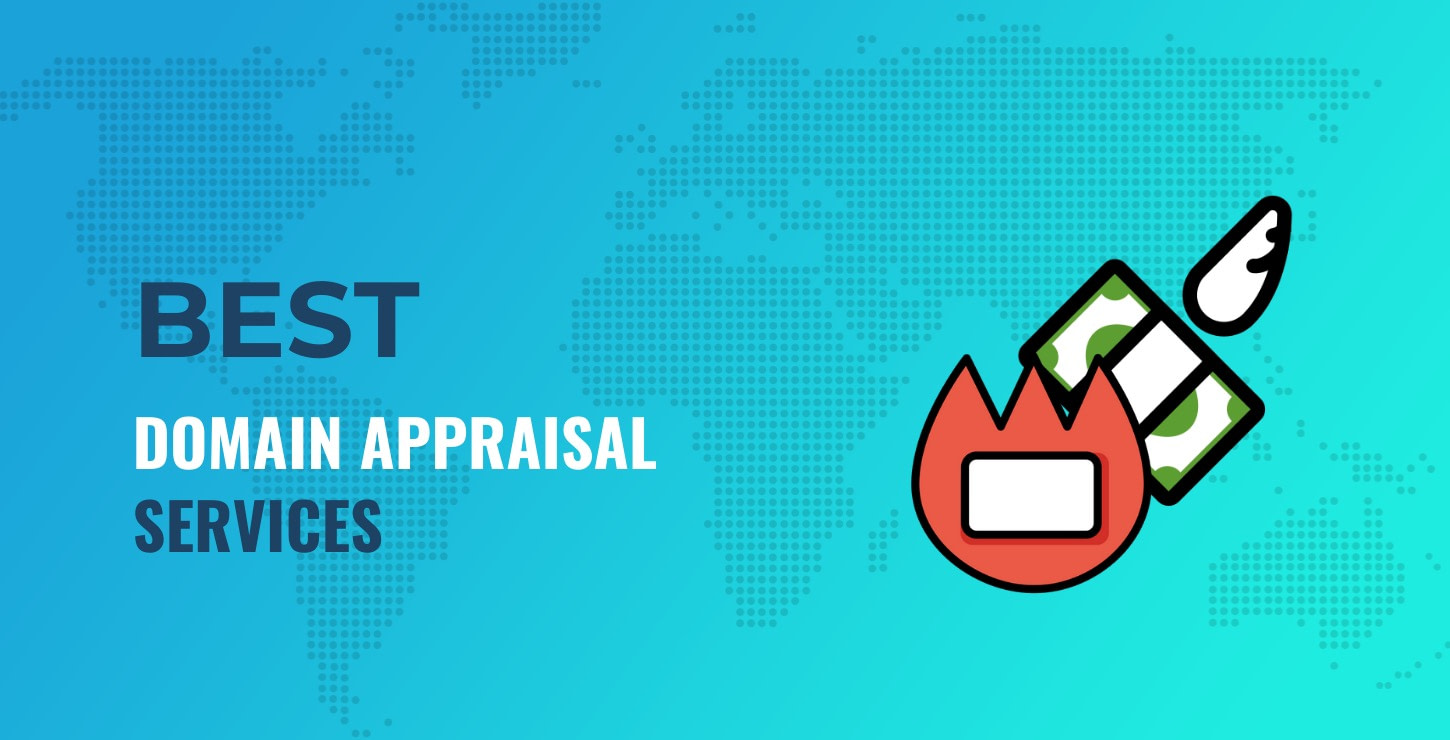 Before using the following domain appraisal services, it helps if you know what the factors influencing the valuation of a domain name are. Generally, the valuation is calculated taking into account the following elements:
Domain extension – how popular is it?
Length of the name – the shorter, the better, as it's easier to remember.
Simple names that are easy to spell and without special characters score higher.
Phonetics matters – nice sounding names are valued higher.
Whether the name can be used globally or locally.
Business potential – does the domain name have any intrinsic commercial value.
Market demand for the domain.
Recent sales of comparable domains.
👉 Further reading: In case you're interested, we have a step-by-step guide for beginners on how to buy a domain name.
ℹ️ Alternatively, if what you're really looking for are new domains – domains that haven't been registered by anyone yet – then check out this list of the best places to get cheap domain names.
Best domain appraisal services in 2021
💸 Pricing:
The Basic Pack is free and allows 15 queries/mo and 10 queries via Bulk. The Business Plan at $79/mo allows 1500 queries/mo and 1000 queries via Bulk. The Advanced Plan at $799/mo allows 100,000 queries/mo and API user account.
🧰 Key features:
Neutral source of price information.
Relies on a database of 26,000,000 domain sales.
AI algorithm based on neural network that is constantly trained.
Can be easily integrated into any project using the REST API.
Detailed domain report.
Provides insight into search volume and web statistics.
Helps to compare domains.
TLD facts and keyword facts.
💸 Pricing:
Free.
🧰 Key features:
20+ metrics to measure and track website success.
Details of website creation, updates and expiry.
Shows number of visitors coming from organic traffic and from paid search.
Furnishes Alexa rank and SEMrush rank.
You can view domain authority and pageviews.
Backlinks metrics can be known.
Keyword metrics like number of keywords in Google SERP.
Page authority and domain authority stats provided.
💸 Pricing:
You can request a Fairness Opinion for free or get a full Professional Appraisal for $395.
🧰 Key features:
Sign up to get a free appraisal.
Relies on data from Archive.org and Alexa Rank.
Helpful while contemplating a domain transaction.
Appraisal based on domain name metrics.
Uses comparisons with sales of similar domains.
Option to appraise your domain portfolio for $1295.
Analyses search data and language used on the website.
One-stop option for complete domain registrar services.
💸 Pricing:
The Starter pack is free and allows seven appraisals per day. Beyond that there are the Domainer Plan ($39/mo – 50,000 appraisals), Pro Plan ($99/mo – 250,000 appraisals) and Enterprise Plan ($299/mo – API access for 1 mil domains).
🧰 Key features:
Choice of manual appraisal review and mass appraisal, including mass trademark check.
Access to a list of domain appraisal experts.
Separates words and compares domains.
Uses sales history and backlink research.
Estimates traffic, tracks top researched keywords and combines trademark research.
Includes TLD estimator and TLD Wiki.
List cleaner and domain filter
Includes alerts and option to connect with the domain registrar.
You may also be interested in:
💸 Pricing:
€99 per domain appraisal. As for portfolio appraisal, price available on request.
🧰 Key features:
Individual appraisal for single domain or large domain portfolios.
Domain analysis based on ten factors such as search engine suitability and advertising effectiveness.
Tangible valuation that depends on meaningful market indicators such as comparison with similar domains.
World's largest database of domain sales increases reliability of appraisal.
A custom report is mailed to you within 5-10 days.
Checks for language complexity.
Appraisal is quick and scientifically conducted.
💸 Pricing:
Free domain appraisal tool. A professional domain appraisal will cost $69, and you can throw in a website appraisal for $129.
🧰 Key features:
Free Valuator arrives at a value based on keywords, statistics, website rankings and sale of similar domains.
Also offers professional domain appraisals by experts.
Allows putting up domains for crowd appraisal.
Bulk domain appraisal for big domain lists.
Can view recent comparable domain name sales.
Analyses trademark issues or disputes in premium services.
Professional appraisal includes a multifactor analysis such as domain length, domain extension and more.
Includes linguistic analysis.
💸 Pricing:
A guest account allows a max of two domains to be submitted at a time. The Novice Plan at $29/mo entitles you to 150 lookups/day and 4500 lookups/mo. For increasing the number of lookups, opt for the Intermediate Plan at $49/mo or Advanced Plan at $99/mo.
🧰 Key features:
Appraising more than 2 mil domains every day.
Instantly assesses domains, be it one or one hundred thousand domains.
Accepts inputs in any format – from CSV to text to HTML
API allows integration of EstiBot data into tools you use.
Plans allow access to all power tools and premium appraisal tools.
Appraised drop lists.
Provides appraisal certificates.
Appraisals are trusted by banks, the IRS, accountants and domain investors.
💸 Pricing:
Free.
🧰 Key features:
Largest database of historical sales data.
Largest marketplace globally for buying and selling websites, stores, apps and online businesses.
A Flippa valuation is a good indicator of price.
Compares your inputs to thousands of similar sites sold on Flippa.
Examines business model, age, category and many other factors.
Takes into account number of interested buyers.
Valuation based on intended use of the site.
Crowd valuation is enabled.
💸 Pricing:
Free.
🧰 Key features:
Uses exclusive algorithm that combines machine learning and real market sales data.
Data compiled over 20+ years.
Valuation model uses word tokenization combined with tons of data.
Gives you a range of values and a printable appraisal certificate.
Does not appraise the developed website connected to the domain.
Possible to appraise entire domain portfolios.
You'll also get back samples of comparable domains with their values.
World's largest domain registrar managing more than 84 mil domains.
💸 Pricing:
Free.
🧰 Key features:
Uses its own unique algorithm to calculate domain value.
Gives weightage to estimated daily unique views.
Gathers daily pageviews, backlink count and social media visibility data.
Takes into account website speed and advertisement revenues.
Determines search engine index status.
Domain age and keywords in Google organic search.
Alexa rank and average time spent on site are considered.
Offers multiple tools to check other factors like similar sites.