This
article
was originally published on
this site
A couple of years ago, "to zoom" simply meant adjusting your camera focus. Nowadays, it has gotten a whole new meaning. The need for online conference call services has made it a household name, along with many other tools that help remote teams perform efficiently.
With conference call services, getting your team together in a virtual room can be as easy as sending a link to the members to join the meeting. Not only is this reducing costs, it also offers great flexibility, leads to better communication, and improves productivity. Most conference call services include a video conferencing feature, while some, like Zoom, specialize in it. These services can totally eliminate the need for an office and help folks get work done in hybrid work environments.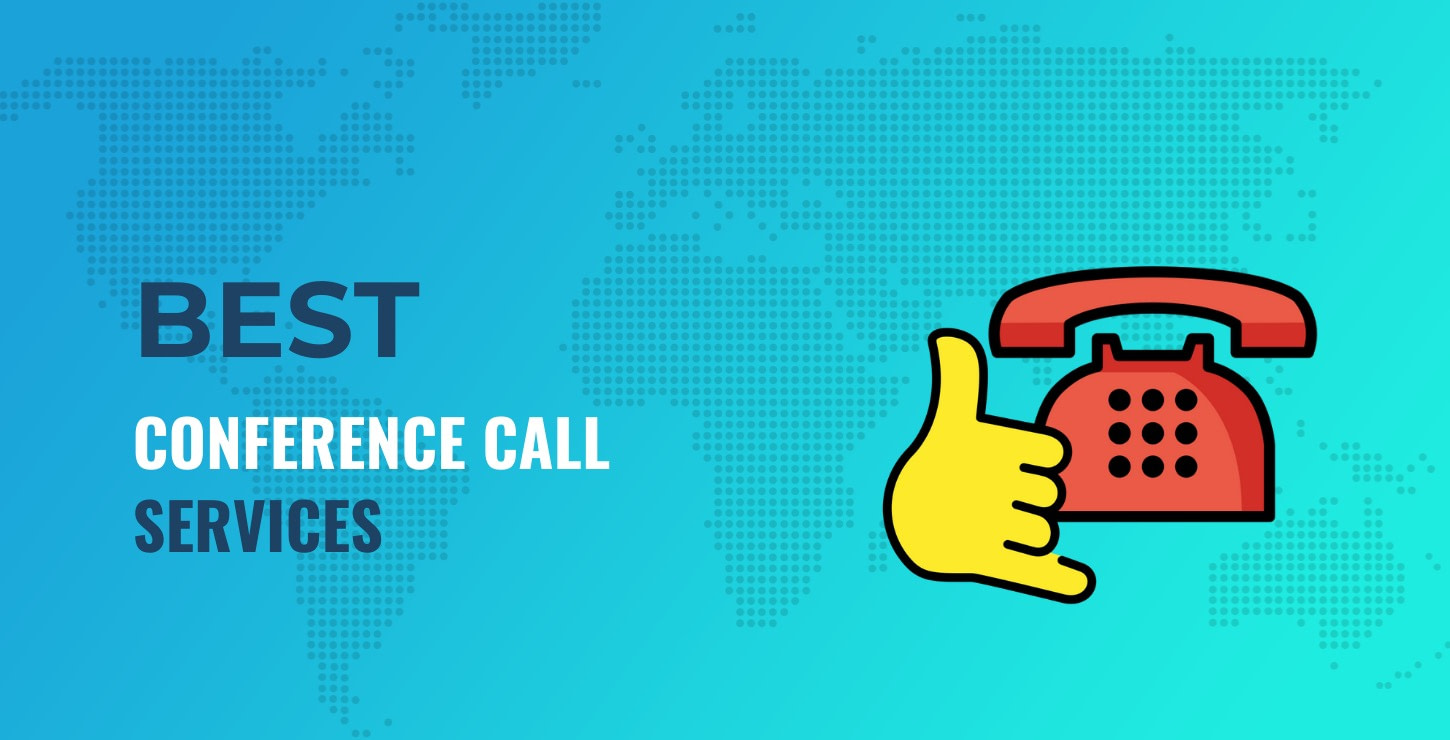 Depending on your requirements, you can choose from standalone conference calls or a whole set of business communication tools in one package. These are some of the features that the best conference call services bring to the picture:
High-quality audio and video (at least 1080p video, and HD audio).
Reliable and secure connectivity.
Ease of use, with intuitive interface.
Compatibility with a wide range of devices.
Browser-based and app interfaces.
Dial-in conference lines.
Flexible meeting duration, number of meetings and participants.
Screen sharing.
Chat functionality and breakout chat rooms.
Direct messaging, private chatting, personal meeting rooms.
Sharing videos and file attachments in chats.
Saving chat logs, recording and transcription capabilities.
Cloud storage for meeting recordings.
Polls and surveys, annotating and whiteboards.
Integrations with apps like calendars, Slack, Salesforce, Google Workspace, and Microsoft 365, plus other collaboration tools.
International calls.
Virtual backgrounds.
End-to-end encryption.
Analytics to examine team communications.
Spontaneous conference calling, i.e., without pre-scheduling.
Operator-assisted calls to welcome and identify callers.
Best conference call services in 2021
💸 Pricing:
Four plans are available. Essentials at $19.99/user/mo offers messaging and phone services.
To add video, choose Standard or Premium at $27.99/user/mo and $34.99/user/mo. Ultimate at $49.99 adds unlimited storage. All plans except Ultimate offer a free trial.
🧰 Key features:
A single platform to power all connections – message, video, phone, contact center
Flexible and powerful cloud phone system with call forwarding, call flip and more
Local numbers, toll-free and vanity numbers and extensions
Configure and manage presence status – Available, Invisible, Do Not Disturb
Video conferencing with up to 500 people worldwide, audio conferencing with up to 1000 people worldwide
RingCentral rooms that convert any sized room into a conference room
Advanced phone system administration, greetings, multi-level IVR
Number porting, music on hold and dial-by-name directory
Multi-site management, call monitoring, call logs and analytics
Extensive coverage with full service in 40+ countries and inbound virtual numbers in 100+ countries.
💸 Pricing:
Besides custom plans for Enterprises that facilitate virtual events for up to 10,000 people, there are two plans – Live and Automated at $30 and $45 per month respectively. That's for up to 25 users, and rates increase with the increase in users.
There's a discount of up to 20% for annual payments, as well as a 30-day free trial.
🧰 Key features:
Browser-based software platform for webinars, online classes, virtual events and more
Unlimited number of online meetings and webinars
Edu mode available where presenters see all attendees and microphones muted by default
Video quality powered by the latest WebRTC technology
Option to record in SD or HD quality
Screen sharing and screen control options. Presentation mode included
Q&A, poll surveys, private chat on offer
Call to action and event landing pages
On-demand webinars and automated recurring webinars
Auto stream on Facebook or YouTube. Auto-publish to profile page or auto record to Dropbox.
💸 Pricing:
Professional Plan at $12/organizer/mo, billed annually accommodates up to 150 participants. The Business Plan accommodates double the number of participants at $16/organizer/mo, billed annually.
🧰 Key features:
Secure online meetings with best HD Video and audio quality
Screen sharing, keyboard and mouse sharing
One-click meetings and in-session chat
Built-in audio with VoIP and toll. Toll free and Call Me included
Commuter mode and background noise suppression
Mobile conferencing and conference calling
Single sign-on and encrypted sessions
Lock meetings and dismiss attendees
Up to 250 attendees, available in 190+ countries
Unlimited cloud recording and transactions.
💸 Pricing:
Full featured basic plan for free with unlimited one-to-one meetings that can go up to 30 hours. Group meetings are limited to 40 minutes. Pro Plan at $14.99/license/mo offers 1GB cloud recording. Small Business Plan at $19.99/license/mo and Large Enterprise-ready plans.
🧰 Key features:
Full-featured solution that includes meetings, chat rooms, events and more
Up to 100 participants in each meeting, 1000 with Large Meeting add-on
Social media streaming
Managed domains, company branding
Single sign-on, recording transcripts
Virtual background, screen sharing, co-annotation on screen share
Telephone dial-in, Break-out rooms, Waiting rooms, Private and Group chat
Personal meeting id, spotlight multiple people
Optional add-on plans or audio-conferencing, large meetings, cloud storage
Highly user friendly, with tiered support packages.
💸 Pricing:
The Plus Plan for mid-sized businesses is designed for a minimum of ten hosts and starts from $14.99/host/mo. You can try for free for 30 days. If you have a need for a minimum of 50 hosts, you can request for customized plans.
🧰 Key features:
Secure and scalable meeting solutions with purpose-built tools for team collaboration
Interoperability with other team collaboration solutions like Microsoft Teams, Webex, GoToMeeting and more
4K video quality, superior audio experience
Solutions to work in hybrid environments across any meeting room, service, contact center, customer touch point
White label Lifesize platform to fit the look and feel of your brand
Every meeting recorded instantly and shareable in the cloud
Analytics to optimize how your team communicates
Add-ons for unlimited audio conferencing and video enabled contact center
One-to-one group and group chat, encrypted meetings.
💸 Pricing:
Plans start at $26 per month, with capacity to host up to ten participants. Free trial available.
🧰 Key features:
A full virtual phone system that includes a conference calling feature
Toll-free, vanity and local numbers
Features include custom greetings, extensions and call handling
Works with existing phone, no need to buy additional equipment
Business texting
VoIP + WiFi calling
Voicemail transcription
Virtual receptionist, instant response
Connects to existing personal phone number
Works with or without an app.
💸 Pricing:
Offers calling, messaging, meetings, contact center, and outbound calling. Video meetings lasting up to 45 minutes are free and allow a maximum of ten participants. The Business Plan charges $15/user/mo (billed annually) and allow meetings lasting up to five hours and 100 participants max.
🧰 Key features:
Screen sharing and unlimited call recordings
Recording transcripts and unlimited video recordings
Auto dial-out to participants
Custom hold music
Audio and video-conferencing, HD audio
In-meeting chat
Automated post meeting notes
Google and Outlook calendar integration
Integration with other popular software like Evernote, Salesforce, Twitter, LinkedIn and more
International dial-in, toll-free conference numbers.
💸 Pricing:
Basic plan for free allows up to 100 people, screen sharing and a personal room. Meet & Call plan costs $25/mo and allows up to 200 people. The Call Plan works out to $17/mo and the Meet Plan, $15/mo.
🧰 Key features:
Features that cover calling, messaging, meeting, events, customer experience and management
Cloud recording storage, MP4 recordings and transcriptions
Cloud-based phone number for each license, phone menus, extensions and more
Breakout rooms and virtual background
File transfer during meeting
Toll dial-in, add alternate host
Stream meetings from Facebook Live
Schedule meetings from Google Calendar, Microsoft Outlook Calendar, or Microsoft Office Suite
Chat, notes, raise-hand and polling
Full screen video with four layout options, including gallery view.
💸 Pricing:
Besides a free plan, there's the Business Basic and Business Standard at $5/user/month and $12.50/user/month (annual subscription that auto-renews). It forms part of the Microsoft 365 package.
🧰 Key features:
Enables you to meet, chat, call and collaborate in one place
Group chat and one-to-one messaging
Meeting can cover up to 300 people
Switch from group chat to video conference at the touch of a button
Scheduled meetings and meeting recordings
Group calling, cloud voicemail and call transfers
Find, share and edit files in real time using familiar apps like Word, Excel
24 hours maximum meeting duration
Screen sharing, customized backgrounds
Host webinars that include attendee registration pages, email confirmations and reporting.
💸 Pricing:
A Pay-What-You-Can pricing structure that recommends an Average rate of $8.21/mo as against a comparable Market rate of $15/mo from competitors. It also suggests a payment of $4/mo.
🧰 Key features:
Breakout rooms and meeting recordings
High quality audio conferencing
83+ international dial-in numbers
Seamlessly escalate calls to full video meetings
Whiteboarding
Custom greetings and hold music
Save important meetings and share with anyone
Make and receive unlimited calls and texts
Easily check voicemails in the app
Available in 83 countries and offers local dial-in numbers in 70+ countries.